Featured Release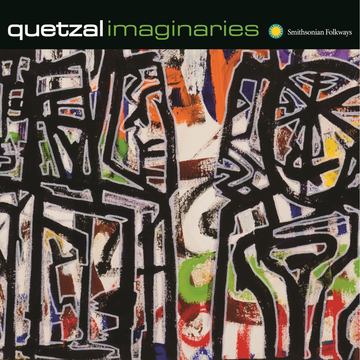 Imaginaries
DIGITAL UPC:886788550933
Release Date: February 28, 2012
Track Listing
1.2+0+1+2=cinco (2+0+1+2=five)

5.Luz y miel (Light and Honey)

7.Tragafuegos (Fire Breathers)

12.Todo lo que tengo (All That I Have)
Artist Bio
From the ashes of Los Angeles' 1992 rebellion/riots arose a collective of East Side musicians committed to respectfully continuing the legacy of over 70 years of Chicano Rock. Standing on the shoulders of giants like Lalo Guerrero, Ritchie Valens, Cannibal and The Headhunters, The Brat, Los Lobos, and many others, Quetzal has created a path that has earned them the title of "one of Los Angeles' most important bands"(LA Times). With four albums (Quetzal; Son Del Barrio, Sing The Real; Vanguard Records, Worksongs; Vanguard Records, Die, Cowboy Die; Independent) Quetzal has had the privilege of sharing the stage with a diverse list of artists such as Los Lobos, Zack de La Rocha, Ziggy Marley, Los Van Van, Taj Majal, Daara J, Ruben Blades, Fishbone, Cubanismo, Littlefeat, and Ozomatli.
Quetzal forges a sound that will simultaneously make you dance and contemplate change. With influences ranging from Stevie Wonder to The Smiths, Juan Gabriel to Bjork, and Miles Davis to Arsenio Rodriguez, the sound of Quetzal is as rich and complex as their pluri-ethnic barrio experience. Their unique combination of community activism and creative compositions has allowed them to travel the world using music as a tool for creating a global network of musicians committed to building community. Since 2002 Quetzal has been part of facilitating a transnational dialogue between musicians in California and Veracruz, Mexico known as "Fandango Sin Fronteras". Many recordings, performances, and publications have been born from this dialogue. Their 5th album, "Imaginaries", will be released by Smithsonian Folkways Recordings on February 28, 2011.
Press
This Week On Alt.Latino: Brazilian Lo-Fi, Mexican Pop Pleasures And More
...Felix also brought the new Quetzal album Imaginaries, and the self-titled song also had us dancing in the studio. Funky beats and thick choruses had me thinking of Crosby Stills and Nash. Much like Novalima, this is a band firmly rooted in tradition but unafraid to play with new styles....
Alt-Latino, NPR
Video of the Week: Todo Lo Que Tengo by Quetzal
...This week's selection is the music video "Todo Lo Que Tengo (All That I Have)" by East Los Angeles (California) Chicano band Quetzal. The song appears in the band's latest album titled Imaginaries....
Angel Romero-World Music Central
East L.A. Band Quetzal's Latest Evolution Includes Smithsonian
"Members of the restlessly inventive East L.A. band Quetzal admit there's something humorous about their new album being released on a label called Smithsonian Folkways Recordings.
As Martha González, the group's bilingual diva, recently observed, the record company, a branch of the Smithsonian Institution, normally focuses on groups that are 'considered maybe on the verge of going extinct.'"
-Reed Johnson, Los Angeles Times
Los Angeles Times
Learn the Art of Songwriting from Members of Quetzal this Saturday
"Having trouble finding those melodies to capture and transmit a definitive life experience? Constantly scratching out words on a piece of paper here and there on that rabble-rousing political anthem-to-be? No worries. This Saturday in SanTana, Martha González and Quetzal Flores of the East LA band Quetzal will be offering their wisdom for FREE at a workshop presented by el Centro Cultural de Mexico as a featured event of Día del Niño celebrations in the city."
-Gabriel San Roman, OC Weekly

OC Weekly
Similar Artists
Los Lobos,
Ozomatli,
Rage Against the Machine
Contacts
MANAGEMENT CONTACT
David Horgan
MANAGEMENT CONTACT
Ivory Daniel